We have six of these well-equipped cabins on 25 m2 for 6 persons with two bedrooms, bathroom and sleepingloft.

They are gathered in a quiet and private area in the western end of the campsite, cosily sheltered by bushes and trees. In the map of of the campsite the cabins are numbered H18 to H23.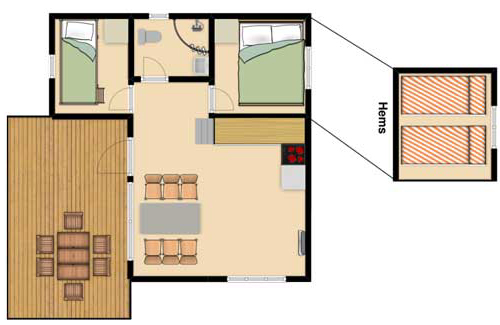 The cabins have a livingroom wit kitchen, two bedrooms, bathroom and a sleepingloft. Room enough for the whole family.
In the partly roofed, and furnished terracce outside the livingroom, you can relax and enjoy your holiday.
The two bedrooms are equipped, one with a double-bed and one with a bunk-bed. In the sleepingloft is a cosy sleeping area for two persons.
The livingroom has a dining area for 6 persons, and a kitchen with stove, oven and dishwasher.
The cabins also have TV and electric heating.
In low- and winter season, the cabins can be quite cold, if the heat is not switched on before your arrival. So if you want preheating please call or write us an email with this request. If you book online, you just choose if you want preheating.
In the winter season, you can rent these cabins.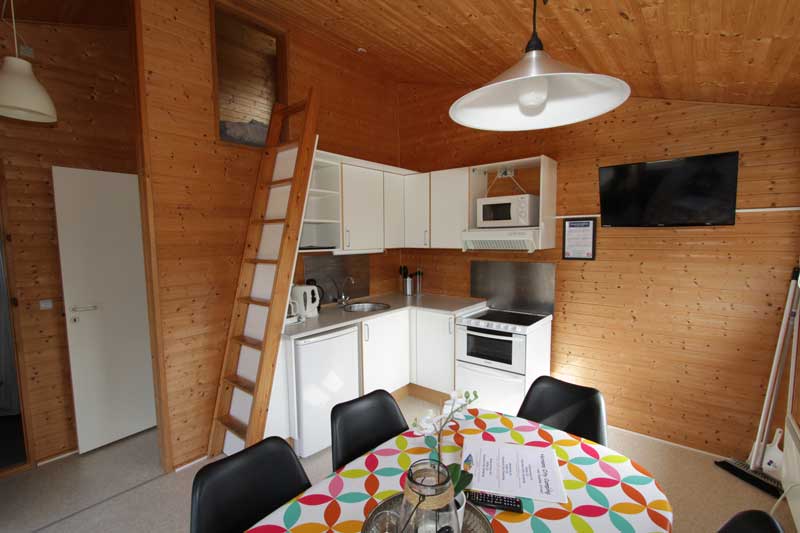 ---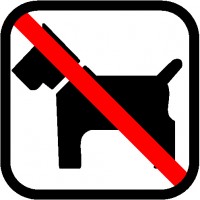 Dogs are not allowed in these cabins !
---
Selected alternative cabins...