Next to the playground, the pool, the beach, new playmates and each other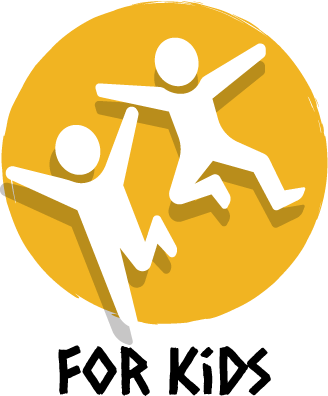 This area is made especially for you who have children with you on camping
All children and parents are enthusiastic about camping in the 'Areas for children'. Here they are close to the most important things – each other, the playground, new playmates, toilets and shower facilities.
As a parent you have a more relaxing holiday and energy to enjoy the company of your children.
Yellow pitches are pitches ment for the families with kids. All of the pitches are near the playground, facilities and pool area, but of course some are closer to everything than others.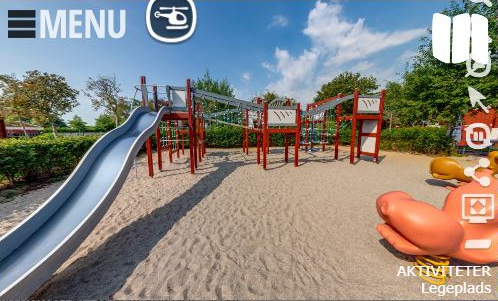 Go on a virtual tour
Here you sit in the middle of the playground at the edge of the sandbox. Take a look around the campsite.
We kindly ask our guest to position their caravan in a way so that all guests - especially the kids - will have the best possible holiday. We are all different and have to take care of each other.
Horsens City Camping has the settings for a perfect family friendly camping holiday.
We have something for all generations. We are a family with children ourselves. It is therefore important to us that the campsite is child-friendly, therefore the campsite is divided into different areas and this part of the site is made child-friendly, so when you are camping with your children, the children must be allowed to have fun and you must be allowed to relax alone and together with your children.
Therefore, go camping with the whole family and experience the company of those you care about and live close to the Horsens fjord, the center of Horsens and lots of beautiful nature.
Child-friendly camping for children of all ages
The site is child-friendly for children of all ages. We have an outdoor playground with a large play stand, where you can play for hours with new playmates, a jumping pillow, a trampoline and a completely new panna court where you can play ball or hockey.
There is also the opportunity to play football down on the beach, where there is plenty of space for lots of ball games.
Camping with pool – Covered pool area warm water temperature
A nice covered pool heated to at least 27 degrees is just more fun!
Although our pool area is located in Denmark, the water is always at least 27 degrees and there is no bad weather - the pool area is covered by a large glass roof. There is room for children and adults of all ages here - and you are guaranteed family camping in East Jutland of the highest quality.
Have fun with children in the very child-friendly pool or take a refreshing morning swim.
ATTENTION! Only guests of the campsite have access to the pool.
Right down to Husodde Strand
When you take the family camping in East Jutland, it is perfect to have the beach, water and nature close by.
You have that at Horsens City Camping, which is only 75 meters from the campsite to the water's edge at Husodde beach.
Horsens City Camping has the right location when it comes to a wonderful holiday with experiences, attractions and beautiful nature.
Which pitches are child-friendly pitches
Child-friendly places are yellow on our place card. The yellow square shows how you should place your caravan/tent to get the best experience. All our pitches for families with children at Horsens City Camping are between 100 and 140 m2.
Here you can see our campsite map
Horsens City Camping is GREEN CAMPING!
Horsens City Camping has been certified as Green Camping since 2020 - this means that when you spend your holiday with us, we do everything we can to live up to the 17 world goals and constantly improve.</p >
When you swim in our pool, it is heated with modern highly efficient heat pumps and by far most of the electricity comes from our own solar cells, which are located on our roofs. It is a goal for us that 60% of our electricity consumption must come from our own solar cells and the rest we buy from wind turbines as green electricity.
You can look forward to it every day when you enter a bathroom and use our soap, toilet paper or when you dry your fingers after washing them. More than 80% of the products we use have the Nordic Swan label.