Take a walk in a city with almost 100 years of history
The Old Town is a large attraction which takes at least a day to visit and is only 50 km from the campsite.
The museum vividly illustrates life as it was in old Danish towns. Here you can experience a market town from H.C. Andersen's time, where adventure awaits you just round the corner. Meet people from the past, see their rooms and kitchens and enjoy the fragrance in their gardens. Try the old-fashioned games and explore the museum's large exhibitions.
The Old Town is home to the Danish Poster museum with exciting exhibitions throughout the year, the Danish clock museum and a large toy museum. There is also a restaurant, historical shops and museum shop. The Old Town is a living museum that holds themed days and large Christmas events.
Taste, smell and experience history hands-on.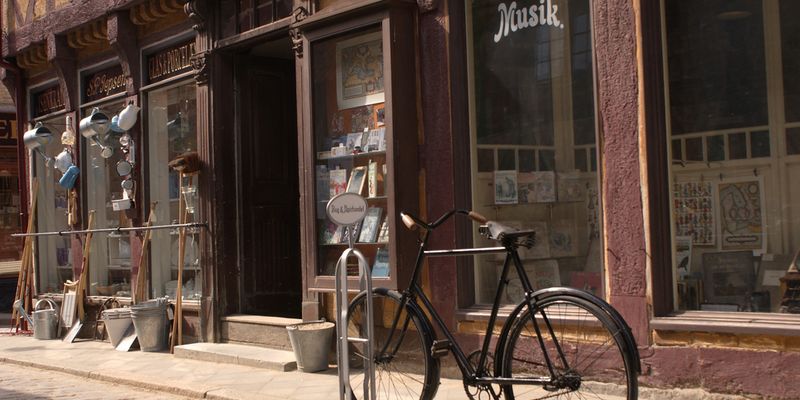 The 1960s and early 70s are the heyday of the welfare state
You can visit ten homes and experience the history of ordinary Danes. The homes show the changes that have taken place in decor, food culture and clothing from 1974 to today.
In 1927, the city has become modern with gable advertisements, telephone wires, sidewalks and a few automobiles.
The Old Town's 1927 district houses homes and shops, so an entire city district looks like it did before Denmark's crisis in the 1930s. In the 1920s, industrialization really took off, and the shops sold lots of factory-produced goods.
This is what a city on H.C. Andersen's time - and earlier.
In this oldest part of the Old Town are the buildings from the years 1550 to 1900. Together they form a poetic retelling of a Danish town as it might look on H.C. Andersen's time - with streets, alleys, backyards, gardens, homes, workshops and shops.
All photos are shown with credit to the Old Town.
Den Gamle By - The Old Town
Viborgvej 2 - 8000 Århus C
Tel +45 86 12 31 88
Read more here - www.dengamleby.dk