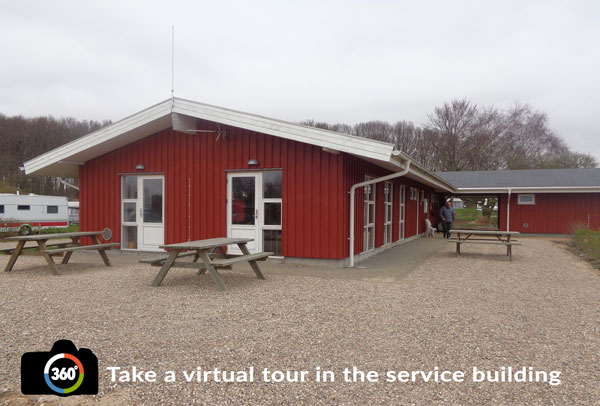 Horsens City Camping is richly planted with trees and bushes and we have our own woodland covering 30.000 m2. It provides lots of shelter and our very special layout with some 'curved' pitches and many exciting facilities on the campsite.
In our service buildings there is a kitchen, toilet and shower which provide great flexibility and user-friendliness.
What is included at Horsens City Camping?
Playground which includes a large climbing frame and seesaw
Medieval themed mini golf course
4 service buildings with shower, kitchen and toilet
Reception with check in and information
Communal room with TV, dining areas
Wireless internet throughout the entire campsite
Air hockey and table tennis for the slightly bigger children
Barbecue with tables and benches

Large family shower room
Baby changing facilities
Children's area with children's toilets and shower
Coin operated laundry
Disabled toilet
Carwash area/Motorhome servicearea
Outdoor sink for cleaning fish
Large kitchen with electricity, oven and microwave oven
Large kitchen with gas, oven and microwave oven
Chemical toilet/sink
Bonfire area with activities

Child friendly sandy beach with wooden pier
Bicycle hire - Grab a Bike