Cooking and washing up with a good view and in comfort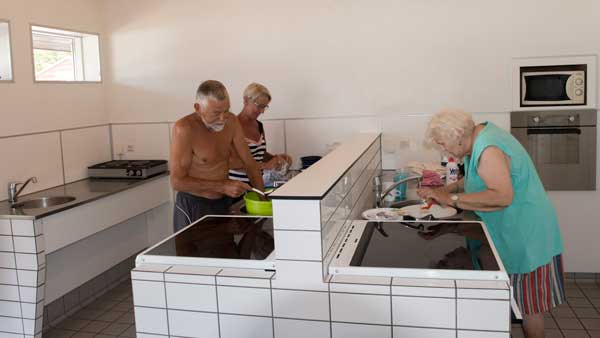 In 2006 we built a large new service building which is located in the eastern part of the campsite and contains, among other things, kitchen with electrical cooking plates, sink, oven and microwave oven for general use.
Connected to the kitchen there is a large common-room/TV room, where the food can be enjoyed and the talk is often about what has happened during the day. From the TV-room you can go directly outside to our big terracce with two big stone-barbecues and tables and benches where you can enjoy your meal. The terracce is the place for meeting new friends and enjoying the view over the fiord all summer.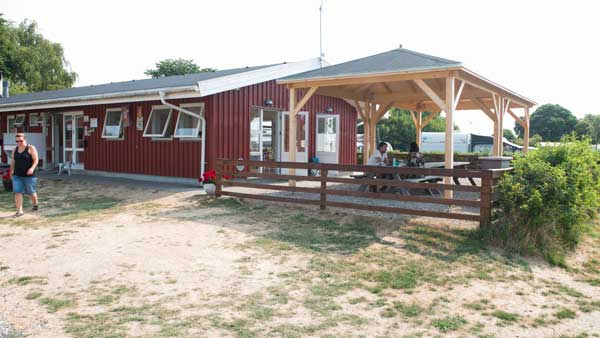 In the common-room we hold various Home Parties several times a year.
At the same time we renovated the two old service buildings and the kitchen facilities now have a new table with gas-burners and zink.
In this building there is direct access from the kitchen out to a delightful covered terrace where food can be enjoyed. This terrace is often the focal point when a good time is to be had around the barbecue, as our barbecue is also located here.
Both buildings have an outdoor washing area and fish cleaning area.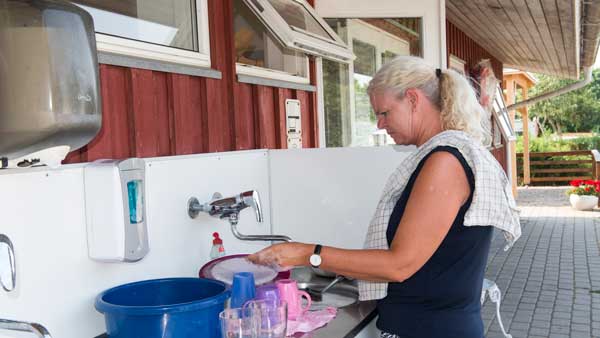 When one is sitting in the communal room one has the most beautiful view out over the campsite and the fjord.
It is very important to us that our facilities always appear clean, tidy and well maintained. Therefore we maintain a high standard of cleanliness with cleaning being done up to twice a day in the high season.
At the same time we ask you to help us by telling us if any of the facilities do not live up to your expectations, as they will not live up to ours either.
Remember also to leave a washbasin or a kitchen table as you would expect to find them.