Horsens City camping offers packages including tickets to Djurs Sommerland – give the entire family a holiday experience for life, that includes the wildest rollercoasters, large water-fun-park and more than 60 amusements for the entire family.
Go camping at Horsens City Camping and combine relaxation, family fun and activities for the kids with a visit to Djurs Sommerland, where you will find the largest rollercoasters in Denmark. Djurs Sommerland has been awarded best fun-park in Scandinavia several times.
Horsens City Camping, previously called Husodde Strand Camping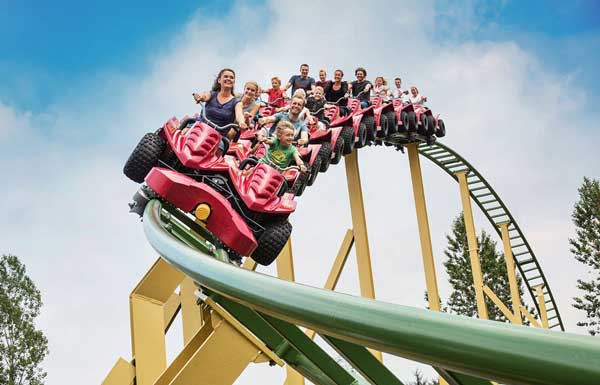 Offers Period: 15/5 - 15/8 2020
Djurs Sommerland adventure holiday for 7 days includes:
2 adults og 2 children (3-12 year) in 7 nights
Day Tickets for the Djurs Sommerland for 2 adults and 2 children (3 - 12 year)
Environmental Fee for all persons
Pitch for your own caravan, tent or camper
Electricity for caravan, tent or camper
Free shower
Free WIFI in 7 days
Free entry to a visit in Horsens Aqua Forum for 2 adults and 2 children (3-14 year).
Optional arrival day
General information
Day-tickets for Djurs Sommerland are valid all season 2020, more over the standard conditions of the themepark apply.
Djurs Sommerland day tickets can only be refunded at Djurs Sommerland in accordance with their standard conditions.
It is always the customer´s responsibility to check the opening hours of DJURS Sommerland. Horsens City Camping can not be held accountable for bad weather, changed opening hours etc. or the customers lack to control the opening hours.
Extra nights must be payed for, however no refunds will be made if the stay is shortened by the customer.
Holiday packages can not be combined with any other discount systems.
Holiday packages must be pre-booked and the total amount must be payed when the booking is made. In case of cancellation we refer to our cancellation rules.
Tickets, WIFI code, showercards and other are personal and may not be disclosed, lent or sold and can not be exchanged for cash. By abuse will be immediate expulsion from the campsite without any compensation.
Tickets to Horsens Aqua Forum are only valid during your stay (incl. arrival and departure day). The tickets can not be refunded or exchanged for money or otherwise.
All prices are includede 25 % tax. Changes in prices, taxes and other fees are reserved.