When you go to the Harry Styles concert on May 13, 2023 at CASA Arena, we have space for your tent or caravan
When you book your accommodation with us, you can also book a special concert package with bus transport from the campsite and to CASA Arena and return after the concert.


The next day you can pick up breakfast once incl. a cup of coffee. The price is DKK 300 per. person when booking in advance. The price is DKK 350 when you book on / after arrival.


The bus leaves from the campsite approx. at 16.30 and return 30 min. after the concert is over.


We take no responsibility for you arriving late for the bus, for whatever reason and do not have the opportunity to arrange alternative transport.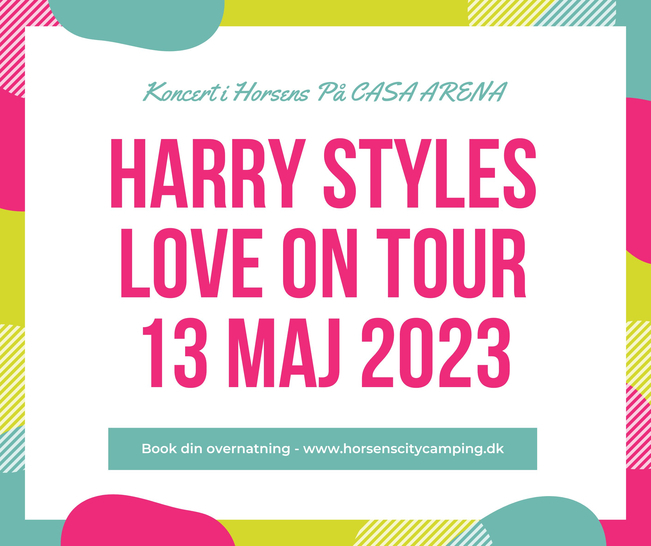 Koncertpitch from kr. 465,-
1 adult in own tent incl. concert package
Extra person
Shower
Concert package online
kr. 410,-
Gratis
kr. 300,-
The price of a stay with concert package includes:
Tent pitch incl. 1 person for 1 night
Transport by bus to and from concert at CASA Arena
Breakfast bag incl. a cup of coffee
Free shower
Free WIFI - when booking online
Generally:
It is recommended to book in advance and pay at the time of booking, cancellation according to our general cancellation policy.
The bus runs as close to CASA Arena as the organizers allow us, a walking distance of up to 1000 m can be expected
The breakfast bag contains, 2 pc. breakfast bread, 3 x butter, 2 x jam, 1 x cheese, a cutlery set, a cup of coffee / tea of free choice and and little juice.
The price includes bath but NOT tickets to the concert etc.