A fjord with a lot of activity and opportunities
Horsens Fjord is a characteristic East Jutland fjord landscape. The islands Vorsø, Alrø and Hjarnø are located in the fjord. You can visit i.a. Hjarnø by ferry.
Vandet udfor pladsen er meget badevenligt med badebro og stor sandstrand med flere stenhøfter.
I sommerperioden er der en del vandglade badegæster. Husodde Strand er en offentlig strand der til og med har blåt flag. Der er vinterbadeklub og vinterbadere hver morgen året rundt.
Oplev Horsens Fjord fra vandsiden og få set det hele fra en anden vinkel. Motion kan er bare en bonus i en fantatisk oplevelse. På Horsens City Camping kan du leje både havkajak og SUB-Boards og få en helt særlig oplevelse i en af Danmarks smukkeste fjorde.
Surfing og kitesurfing
Vores helt unikke placering helt ned til stranden og fjordens rolige vande, gør at du roligt kan tage dit bræt med og surfe løst uanset din erfaring uden at fare til havs eller ud i Kattegats bølger.
Horsens Surfklub holder til på Husodde Strand og de kan kontakes for leje af udstyr m.v.
Havkajak og SUP boards
Brug en dag i på Horsens fjord og sæt kajakken eller SUP board i vandet, direkte fra stranden. Høj solskin og 25 grader er ikke et nødvendigt for at få en vidunderlig dag ved stranden eller på fjorden.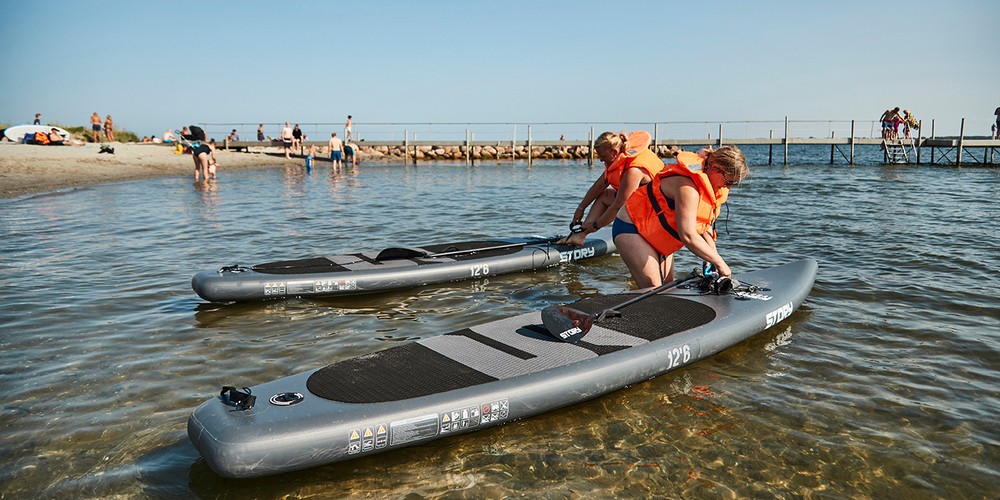 Hos os kan du leje et paddleboard eller en havkajak og så er det bare at udforske området fra vandsiden. Det rolige vand betyder, at selv nybegyndere kan være med. Og hvor lækkert er det ikke lige at komme træt hjem efter en dag med både afslapning og aktiv vandleg?
Horsens Fjord byder på et rigt fugle- og planteliv, tætte skovområder og et fjordlandskab med lavt vand, flere skønne badestrande og øerne Vorsø, Alrø og Hjarnø. Du kan være heldig at møde både sæler og marsvin på din tur!
Den flotteste natur-tur får du langs kysten fra Husodde til Brigsted vest om Vorsø (7,5 km), hvorfra du enten kan ro videre mod den dejlige Sondrup Strand og Alrø eller tage turen tilbage til Husodde.
Når du lejer et SUP-board, får du det nødvendige udstyr med. Redningsvest og paddle medfølger.
Der afholdes løbende 2 dages havkajakkurser på Husodde Strand. Se her for flere informationer om priser og datoer.
Lystfiskeri i Horsens fjord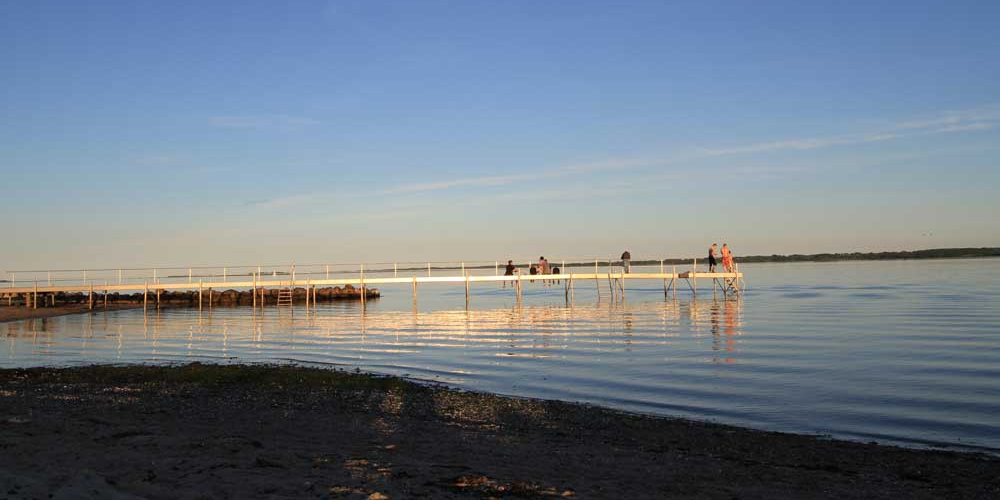 Går man lidt til venstre/øst for pladsen er der stort set ingen der bader og vil man ud med fluestangen er der flere kilometer fiskevand i østlig retning der egner sig netop til fluefiskeriet.
Det statslige fisketegn til alt havfiskeri m.m i Danmark kan du naturligvis købe hos os i receptionen. Læs mere om fisketegnet på hjemmesiden fisketegn.dk.
På strækningen finder man muslingebanker, blæretang og ålegræs samt diverse andre tangplanter der huser store mængder krebsdyr såsom rejer og tanglopper m.fl.. Tilsammen udgør disse plantevækster og dyr ideelle forhold og foretrukne fødeemner for havørreden.
Lige foran pladsen kan man tidlig morgen være heldig at få badebroen og området omkring for sig selv. Vandet er lidt dybere på stykket og i sommerperioden kan man både fange, havørred, hornfisk og makrel derfra.
Havørrederne i den godt 20 km lange Horsens Fjord kommer fra dels udsætninger direkte i saltvand, dels fjordens to væsentligste tilløb: Bygholm Å, der løber gennem den nu så berømte Bygholm Sø og udmunder i Horsens Havn. Og så Hansted Å, der kommer til nordfra og udmunder længere ude - mod Vorsø. Du kan naturligvis ordne dine friskfangede fisk på vores fiskerense plads ved servicebygningen.
Jari Pedersen - Fiskesæsonen.dk - Vi havde besøg af lystfisker og naturelsker Jari Pedersen fra fiskesæsonen.dk, her er lidt information fra ham om fiskemulighederne i Horsens Fjord
Den indre del af Horsens Fjord er lavvandet og byder ikke på klassiske kystpladser med hård og varieret bund. Man kan dog ofte opleve et fint fiskeri på beskyttede steder med blød bund.
Horsens Fjord byder på et sandt virvar af næs, pynter og odder. Det giver et malerisk landskab med mange gode fiskemuligheder for den, der ikke er bange for at gå lidt og selv udforske kilometerlange kyststrækninger. Som man så til gengæld kan være helt alene om.
Read more aboutfishing at Husodde and Horsens fjord here.