A fjord with a lot of activity and posibilities
Horsens Fjord is a distinctive East Jutland fjord landscape. In the fjord are the islands Vorsø, Alrø and Hjarnø. You can visit Hjarnø by ferry.

Vandet udfor pladsen er badevenligt og i sommerperioden er der en del vandglade badegæster. Husodde Strand er en offentlig strand der til og med har blåt flag.


Fiskeri i Fjorden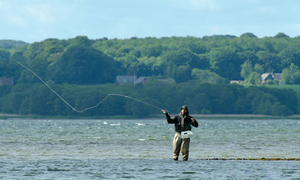 Går man lidt til venstre/øst for pladsen er der stort set ingen der bader og vil man ud med fluestangen er der flere kilometer fiskevand i østlig retning der egner sig netop til fluefiskeriet.


Det statslige fisketegn til alt havfiskeri m.m i Danmark kan du naturligvis købe hos os i receptionen. Læs mere om fisketegnet på hjemmesiden fisketegn.dk.

På strækningen finder man muslingebanker, blæretang og ålegræs samt diverse andre tangplanter der huser store mængder krebsdyr såsom rejer og tanglopper m.fl. Tilsammen udgør disse plantevækster og dyr ideelle forhold og foretrukne fødeemner for havørreden.

Lige foran pladsen kan man tidlig morgen være heldig at få badebroen og området omkring for sig selv. Vandet er lidt dybere på stykket og i sommerperioden kan man både fange, havørred, hornfisk og makrel derfra.

Sea trout in the well 20 km long Horsens Fjord comes from both releases directly in marine and fjord two principal tributaries: Bygholm River that runs through the now famous Bygholm Lake and ending in Horsens Harbour. And then Hansted river that comes from the north and flows further out - against Vorsø. Of course you can clean your freshly caught fish on our fish cleaning table at the service building.


Jari Pedersen - Fiskesæsonen.dk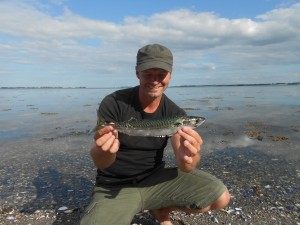 Vi havde besøg af lystfisker og naturelsker Jari Pedersen fra fiskesæsonen.dk, du kan her læse hans artikel med gode råd til kyst/-fjordfiskeri, fangster og fiskemuligheder i Horsens Fjord

The inner part of Horsens Fjord is shallow and does not offer classic coastal places with harsh and Varied bottom. However, you can often find a fine winter fishing on protected areas with soft bottom.

Horsens Fjord boasts a true kaleidoscope of headland, decorate and otter. It provides a picturesque landscape with many great fishing opportunities for those who are not afraid to go a little and even explore kilometer long coastline. As we in turn can be completely alone.

Læs mere om fiskeri ved Husodde og Horsens fjord her