A fjord with a lot of activity and opportunities
Horsens Fjord is a characteristic East Jutland fjord landscape. The islands Vorsø, Alrø and Hjarnø are located in the fjord. You can visit i.a. Hjarnø by ferry.
The water in front of the campsite is very suitable for swimming, with a jetty and a large sandy beach with several rocky outcrops.
During the summer period, there are quite a few water-happy bathers. Husodde Strand is a public beach that even has a blue flag. There is a winter swimming club and winter bathers every morning all year round.
Experience Horsens Fjord from the water side and see it all from a different angle. Exercise can be just a bonus in a fantastic experience. At Horsens City Camping you can rent both sea kayaks and SUB-Boards and have a very special experience in one of Denmark's most beautiful fjords.
Surfing and kitesurfing
Our completely unique location right down to the beach and the calm waters of the fjord means that you can safely bring your board and surf freely, regardless of your experience, without going out to sea or into the waves of the Kattegat.
Horsens Surfklub is based at Husodde Strand and they can be contacted for equipment hire etc.
Sea kayak and SUP boards
Spend a day on Horsens Fjord and put the kayak or SUP board in the water, directly from the beach. High sunshine and 25 degrees are not necessary to have a wonderful day at the beach or on the fjord.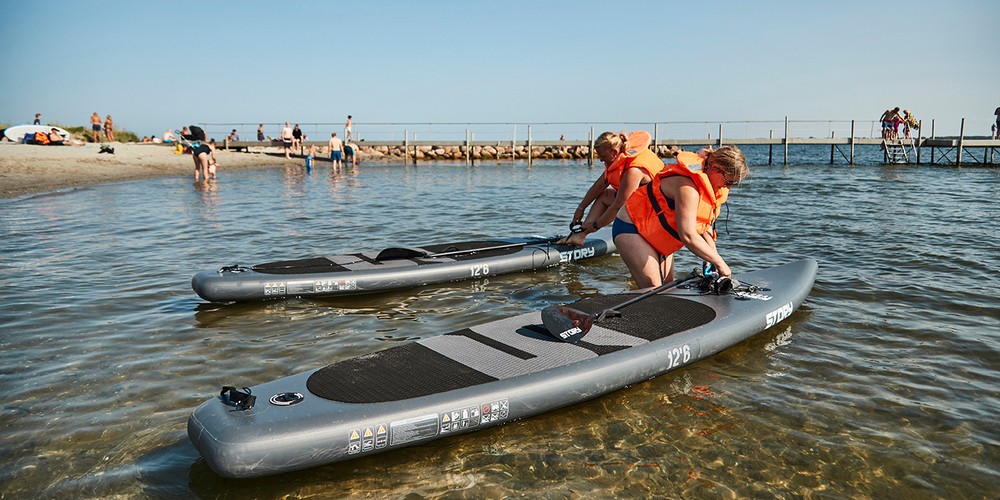 With us you can rent a paddleboard or a sea kayak and then just explore the area from the water side. The calm water means that even beginners can participate. And how delicious isn't it to come home tired after a day of both relaxation and active water play?
Horsens Fjord offers a rich bird and plant life, dense forest areas and a fjord landscape with shallow water, several beautiful bathing beaches and the islands of Vorsø, Alrø and Hjarnø. You may be lucky enough to meet both seals and porpoises on your trip!
The most beautiful nature trip is along the coast from Husodde to Brigsted west of Vorsø (7.5 km), from where you can either row on towards the lovely Sondrup Strand and Alrø or take the trip back to Husodde.
When you rent a SUP board, you get the necessary equipment. Life vest and paddle included.
Regular 2-day sea kayaking courses are held at Husodde Strand. See here for more information on prices and dates.
Lystfiskeri i Horsens fjord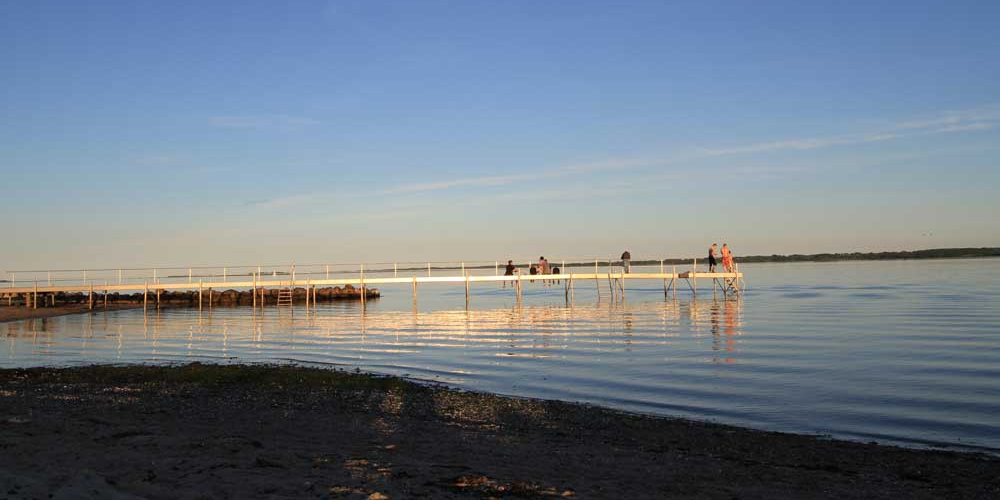 Går man lidt til venstre/øst for campingpladsen er der stort set ingen der bader og vil man ud med fluestangen er der flere kilometer fiskevand i østlig retning der egner sig netop til fluefiskeriet.
You can of course buy the state fishing license for all sea fishing etc. in Denmark from us at the reception. Read more about the fish sign on the website fisketegn.dk.
Along the stretch you will find mussel beds, bladder kelp and eel grass as well as various other kelp plants that house large quantities of crustaceans such as shrimps and kelp fleas etc. Together, these plant growths and animals form ideal conditions and preferred food items for the sea trout.
Right in front of the campsite, early in the morning you can be lucky to have the jetty and the surrounding area to yourself. The water is a little deeper on the stretch and in the summer period you can catch sea trout, hornfish and mackerel from there.
The sea trout in the roughly 20 km long Horsens Fjord come partly from releases directly into salt water, partly from the fjord's two most important tributaries: Bygholm Å, which runs through the now famous Bygholm Lake and empties into Horsens Havn. And then Hansted Å, which comes to us from the north and empties further out - towards Vorsø. You can of course arrange your freshly caught fish at our fish cleaning area by the service building.
Jari Pedersen - horsensfjord.dk - We had a visit from angler and nature lover Jari Pedersen from horsensfjord.dk, here is some information from him about the fishing opportunities in Horsens Fjord
The inner part of Horsens Fjord is shallow and does not offer classic coastal sites with hard and varied bottom. However, you can often experience good fishing in protected places with soft bottoms.
Horsens Fjord offers a veritable jumble of headlands, reefs and otters. It provides a picturesque landscape with many good fishing opportunities for those who are not afraid to walk a little and explore kilometers of coastline themselves. Which, in turn, you can be completely alone with.
Read more about fishing at Husodde and Horsens fjord here.