- the former state prison in Horsens
Since the last inmate left the former state prison in Horsens in 2006, intense work has been done on the project: FÆNGSLET.

The old state prison now functions as a cultural institution in East Jutland under the name FÆNGSLET.
FÆNGSLET forms the framework for a large number of activities, including concerts, exhibitions, sporting events.

FÆNGSLET and Horsens City Camping are open all year and at all events it is possible to spend the night camping in Horsens at Horsens City Camping, either in your own caravan or in one of our cabins.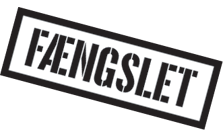 Museum Horsens, which has the world's largest prison collection, is behind the Prison Museum, where you get an exciting tour of the old state prison's historic buildings through 153 years of prison life from both the inmate's and the employee's point of view. A unique and memorable experience awaits the museum visitor.

The state prison in Horsens was the first prison in Denmark built on the basis of modern criminal law principles. It opened to the first prisoners in 1853 and closed in 2006, and with its 153 years of uninterrupted use as one of Denmark's state prisons, it is a unique exponent of a hitherto unexplored part of the welfare society's cultural heritage.

FÆNGSLET and the museum are open all year, Tuesday to Sunday in the period 10 - 16, during holidays it is open weekdays. See FÆNGSLET opening hours here
Fussingvej 8, 8700 Horsens
Tlf. 7629 2350