All included means all is accounted for. A complete package, based on a stay in your own caravan/tent for 7 days, 2 adults and 2 children. Choose the all-included package that suits you best.
Camping-holiday for the entire family with all-inclusive - doesn´t sound so bad, does it?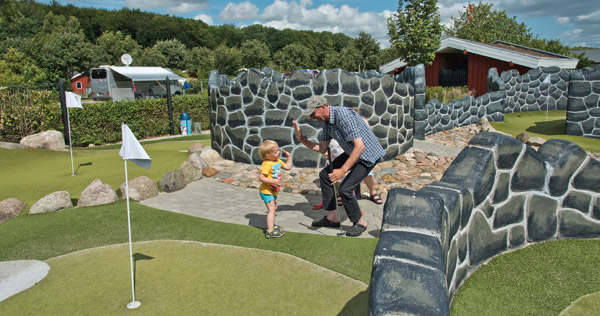 Offers Period: 27/6 - 23/8 2020
The summer holidays with all inclusive contains:
2 adults and 2 children (0-12 year) in 7 days
Environmental Fee for all
Pitch for your own caravan, tent or camper
Free electricity
Free Shower
One free white bread every morning
A free ice cream for the entire family
A game Minigolf for the entire family
Free WIFI in 7 days
Free entry to a visit in Horsens Aqua Forum for 2 adults and 2 children (3-14 year).
Optional arrival day
General information
Holiday packages can not be combined with any other discount systems. The price is only for one caravan, tent or camper, extra is according to our pricelist.
The Holiday Package must be booked and paid in advance. Cancellation according to our standard cancellation policy.
Extra nights must be payed for, however no refunds will be made if the stay is shortened by the customer.
Breakfast bread must be ordered in the shop the day before, before 8 pm
Tickets, WIFI code, showercards and other are personal and may not be disclosed, lent or sold and can not be exchanged for cash. By abuse will be immediate expulsion from the campsite without any compensation.
Tickets to Horsens Aqua Forum are only valid during your stay (incl. arrival and departure day). The tickets can not be refunded or exchanged for money etc.
All prices are include 25 % tax. Changes in prices, taxes and other fees are reserved.