Some practical information

....
Maybe you have some questions that you need answered. Below you will find a list of practical information, that we hope will give you some of the answers.
Opening hours
The reception and the shop are open every day in the high season 8.00-22.00. In the low season opening hours are a bit more diversified, Read more here.
Arrival
Your pitch or cabin is available from 14.00
Departure
Your pitch or cabin must be vacated no later than 12.00 noon.
Payment
Payment can be made in cash or with major credit cards: Master, VISA or ELEKTRON etc. You can also pay via bank transfer or online before arrival.
Valid photo identification
All persons must present valid photo identification upon arrival.
Pre-payment
If you do not pay on due date, your reservation may be cancelled witout further notice. You will not receive further confirmation on pre-payment..
Visitors
Visitors must be payed for at the reception, DKK 20,- per person.
Pets
Pets are allowed, also in in some of our cabins (if you bring a pet you must pay for cleaning). Dogs are not allowed inside any of the campsite facilities. Dogs must be on a leatch at all times, and must be exercised outside the camp site or in our "doggy-forest". Remember to bring a bag for the little accidents.
Cabins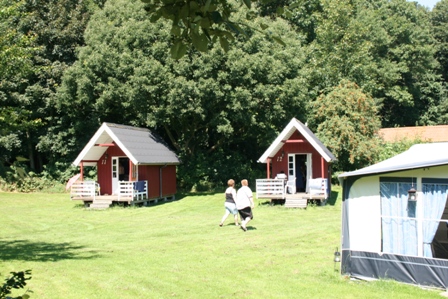 All our cabins have pillows and duvets. Linnen must be brought from home or rented at the reception. All cabins are equipped with the most neccesary utensils, for the number of persons ment to sleep ind the cabins. Electricity is accounted for by meter, DKK 3,50 per kWh.
WIFI
WIFI is available for payment. Code can be bought in the reception.
Cleaning
All cabins must be cleaned before departure. If you do not wish to do it yourself, you can pre-order in the reception for payment. Normal cleaning appliances are in the cabins.
Smoking
All cabins are non-smoking. It is not allowed to smoke inside any of the camp site facilities, shop, reception etc. at any time.
Electricity
All pitches have electricity, and also few of the tent pitches. We have a limitied amount of adapters and cables to be borrowed at the reception.
Tents
Tents are not only allowed at the tent pitches. You are welcome to choose from any of our pitches if you wish to have electricity. A small size play-tent may be placed beside the caravan, if it is possible without disturbing the neigbours or violating the fire regulations (3m between units).
If you did not find an answer to your questions please see the rules for our campsite or feel free to contact us.
Dorthe & René