Next to the fjord, next to nature and freedom to be yourself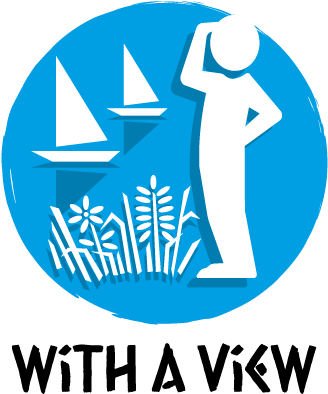 This area is made especially for you who want "Pitch with a view"
From your caravan or cabin you can enjoy a view of Horsens Fjord, which with its great width and large surface is impressively beautiful.
You have a sense of calm, when you experience the tranquillity of the fjord and watch nature's colours playing on the water in the morning or the evening. During the day life on the fjord is pleasurable as you look at the water and the birds, take part in fishing, join the bathers, kayakers, windsurfers or leisure craft sailors.
Blue squares are sites with views, some places have obviously better views than others. The front row pitches, the light blue, have an almost completely clear view over the fjord.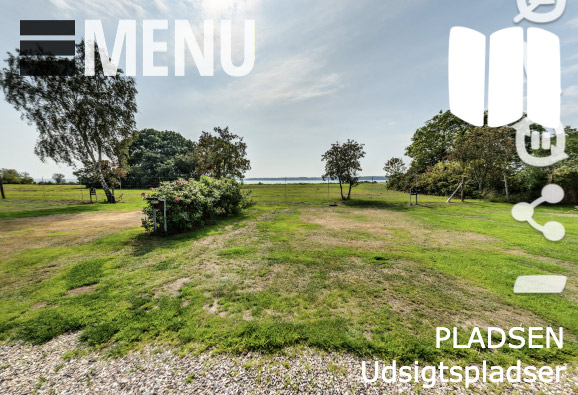 Go on a virtual tour
Here you are at pitch 102/103 in middle of the campsite, take a walk though our pitches with a view.
Note - the pitches in the 1st row have a particularly fine view.
We request that all our guests position themselves so that everyone in the area can enjoy the views as much as possible; even those who are a little further back on the campsite.
Horsens City Camping has Horsens Fjord as its neighbour
Horsens City Camping has the framework for a perfect family-friendly camping holiday. We have something for all generations.
Out in front of the campsite we have the most fantastic and child-friendly beach - Husodde Strand. Not only do you have the opportunity to jump in the blue wave, you also have the opportunity to take a dip in our heated and covered pool.
Husodde Strand offers a great many activities and entertainment for both children and adults - including sea kayak courses with accommodation in camping cabins or in tents/caravans on the campsite.
There are also many opportunities for activities, e.g. SUP-Boards, Wind-Surfing and crab fishing for the whole family.
Rent sea kayaks and SUP-Boards
Place with view
We are located right down to Horsens Fjord and when you choose camping with a view, you get a viewing pitch with a view or lookout to Horsens Fjord, just as you have easy access to our modern service buildings.
Get peace of mind and relax with the good view
From here you and the family can enjoy the view at all times of the day. There is always something to see and something to talk about - regardless of whether you are sitting and enjoying breakfast or sitting and enjoying the last evening sun outside your caravan.
It is important that all our guests take each other into account and position themselves so that everyone in the area can enjoy the view as best as possible, also a little further back on the square. But the view naturally varies between the individual pitches, depending on how many guests are on the pitch.
Only the 1st row pitches have that have a better view.
Which pitches are viewing pitches
Places with a view are blue on our sitemap. The blue square shows how you should place your caravan/tent to get the best experience. All pitches with a view at Horsens City Camping are between 100 and 140 m2.
Horsens City Camping is GREEN CAMPING!
HHorsens City Camping has been certified as Green Camping since 2020 - this means that when you spend your holiday with us, we do everything we can to live up to the 17 world goals and constantly improve.
When you swim in our pool, it is heated with modern highly efficient heat pumps and by far most of the electricity comes from our own solar cells, which are located on our roofs. It is a goal for us that 60% of our electricity consumption must come from our own solar cells and the rest we buy from wind turbines as green electricity.
You can look forward to it every day when you enter a bathroom and use our soap, toilet paper or when you dry your fingers after washing them. More than 80% of the products we use have the Nordic Swan label.